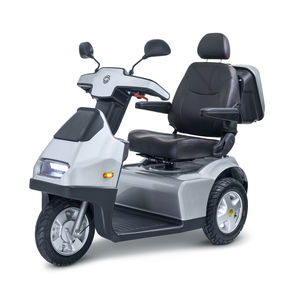 So you may have found this article because you're wondering what is so special about best bariatric mobility scooters and how do they differ from regular mobility scooters. Or perhaps you'd like to just know more about them.
Keep reading, and we'll take you through 6 things you need to know about bariatric mobility scooters before you purchase one for yourself, or perhaps even a loved one.
1. What features do they have?
A bariatric mobility scooter shares many features with ordinary mobility scooters, with a few added perks. Here are the 6 most important ones:
1. Built-in storage
Bariatric mobility scooters are all fitted with a convenient storage basket in front of the handlebars. This makes it significantly easier for you to do your grocery shopping, or for just running an errand in general. Despite being open to the air, these baskets are ideal for holding small parcels and basic groceries.
If you find yourself needing more storage, you'll easily be able to attach a bag to the back of your seat. However, it is still vital that you consider your storage needs when looking into which bariatric scooter will work for you.
2. Battery Indicators
When running an errand, you wouldn't want to be guessing how far you can still travel or how much longer the battery will last. Thankfully, all bariatric mobility scooters have a built-in battery gauge that is easy to read so you'll always know how full your scooter's battery is at any point in time.
3. Lights and Signals
Bariatric mobility scooters are all equipped with a headlight, as well as turn signals and brake lights. This makes them ideal for use in darker weather, as well as safer to use when traveling in a mall or on a road/sidewalk. Pedestrians and vehicles alike will be able to tell your intentions with proper usage of turn signals, so always stay aware.
4. Freewheel mode
This is a feature that, when turned on, allows you to control the scooter as if it were a wheelchair, making it easier for you to get into tight parking areas, into your home, or just getting out of someone's way quickly. Just be sure to turn the feature off again when you wish to start riding.
5. Security measures
Most bariatric mobility scooters can only be started with a key in the ignition making them hard to steal. Some brands have anti-theft alarms installed for additional security however this doesn't apply to every make or modal.
2. What is the weight limit?
Bariatric mobility scooters are designed for individuals who are heavier than average. Most users of a bariatric mobility scooter weigh over 300lbs, which means a bariatric scooter needs to be able to support that weight without compromising on quality.
On an ordinary mobility scooter, you'd be looking at a weight limit of between 150lbs and 300lbs. However, bariatric mobility scooters have a higher than average weight limit, with some scooters being able to support up to 650lbs!
Most bariatric mobility scooters will typically only support up to around 450lbs so you will need to keep an eye on the weight limit of the particular scooter you're looking at before making your decision.
3. How fast do they go?
It is rather important to know how fast you'll be able to travel when using a bariatric mobility scooter because you wouldn't want to spend hours traveling just to get to the local grocery store. Bariatric mobility scooters generally have a maximum speed of 2 to 4 mph, however, this greatly depends on the make and model of the scooter you wish to purchase.
It is also important to note, that you will be able to travel between 10 and 50 miles with each fully charged battery depending on which bariatric mobility scooter you decide on.
4. Where can they be used?
Bariatric mobility scooters can be used in many places. Typically, they are used by individuals running basic errands, grocery shopping or just to get out of the house for a bit of fresh are.
They are allowed in any area that you would typically walk, so they are allowed in malls, on sidewalks, etc but with a speed limit of 4mph. This is for pedestrian safety. Any faster and you could potentially injure someone if you were to accidentally knock into them or they step in your path.
Bariatric mobility scooters are not allowed on the roadways because they are simply not fast enough. They also do not offer any protection from the elements or any protection in the event of an accident.
5. What is the battery life?
You must consider the battery life of the bariatric mobility scooter you are looking at because you wouldn't want to get halfway to your destination only to find that the battery has run out.
With most makes and models of bariatric mobility scooters, you will be able to travel between 10 and 50 miles on a fully charged battery. How long the battery lasts is also dependent on the speed you are traveling at, so always keep an eye on the battery indicator when out traveling and perhaps keep a charger on your person.
6. What is the price range?
Any mobility scooter will set you back quite a bit financially; however bariatric mobility scooters tend to be even more expensive. This is due to the fact that they need to be built to hold the weight of the user without the parts breaking down. On average, a bariatric mobility scooter will cost you about $1500, however, they can cost up to $7000!
Conclusion
In conclusion, a bariatric mobility scooter is a great investment to aid any mobility-impaired individual with a higher than average weight limit. They are wonderfully convenient, easy to use, and are allowed anywhere you would typically be allowed to walk. They can be an expensive investment, but will without a doubt be an excellent one.

About the author:
Trevor Fenner is the founder and owner of
Mobility Paradise
, a one-stop shop for mobility scooters, electric scooters, electric wheelchairs, wheelchairs, oxygen concentrators, lift chairs, saunas, steam showers, massage tables, exercise equipment, electric bikes, massage chairs, and bathtubs. Years ago, Trevor's grandma had an accident that made her dependent on a wheelchair; this forced Trevor and his family to put her into an elderly care facility. Since then, Trevor would visit her to take a walk around the neighborhood. Mobility Paradise was created because Trevor couldn't find an online store that offers a wide selection of mobility equipment and educational resources. What started as a business focusing on mobility scooters grew to include all kinds of mobility products. You can shop for the most reliable mobility products at
Mobility Paradise
.